Which wind spinners are best?
Wind-based decorations are an easy way to make your exterior spaces more dynamic. If you dislike the noise of wind chimes, wind spinners are your best bet.
Wind spinners come in a massive range of styles, from the typically round and mandala-like designs to spiraling ones and even themed spinners for the holidays. They also come in as massive a range of costs and sizes. You don't always need to put them outside; some hanging ones are sensitive enough to spin in an air conditioner or ceiling-fan current.
What to know before you buy a wind spinner
Hanging vs. standing
Wind spinners are made to be hung or impaled into the ground.
Hanging spinners are what most think of when they hear "wind spinner." The best of these come with high-durability hanging gear, such as multistage bolts and steel wiring. Lesser ones simply include a small hook, though you can always upgrade it on your own.
Standing spinners are extra-large, for spicing up big yards. The best use multipronged feet to stabilize their heavier weight and keep harsh winds from blowing them over. They also use heavy-duty poles made of multiple sections that screw together to prevent bending.
Width
Wind spinners are typically circular, or circular enough, to measure by width. Most are 6 to 12 inches wide, though the largest standing spinners can be several inches wider.
Height
For standing wind spinners, check the length of the pole. This is usually measured from the bottom tip of the prongs to the top of the spinner. Most are 75 inches measured this way. Some poles with multiple screw-in lengths can have their height adjusted by omitting a length or two.
How much you can expect to spend on a wind spinner
Most cost $20-$50, depending on their size, material and style. Some can cost up to $150 or more if they are particularly big, are well-made or have special features.
What are the best wind spinners to buy?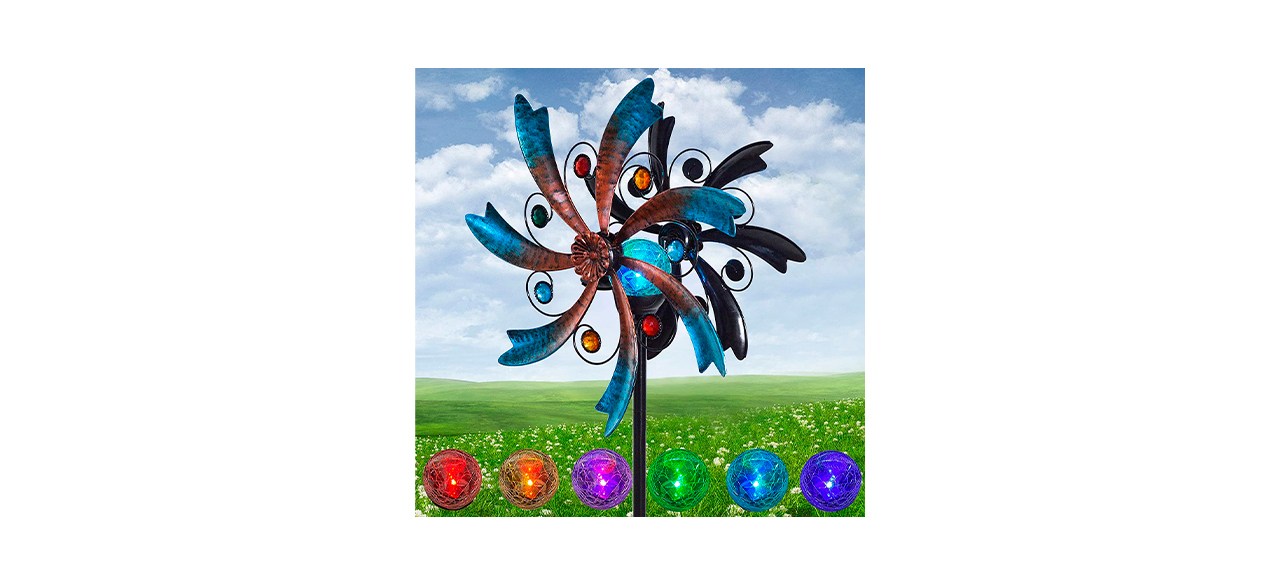 This spinner is all about color with its gradient leaves, multicolored dots between each leaf and color-changing LED light in the center. It has a two-month money-back guarantee if there are any issues.
Sold by Amazon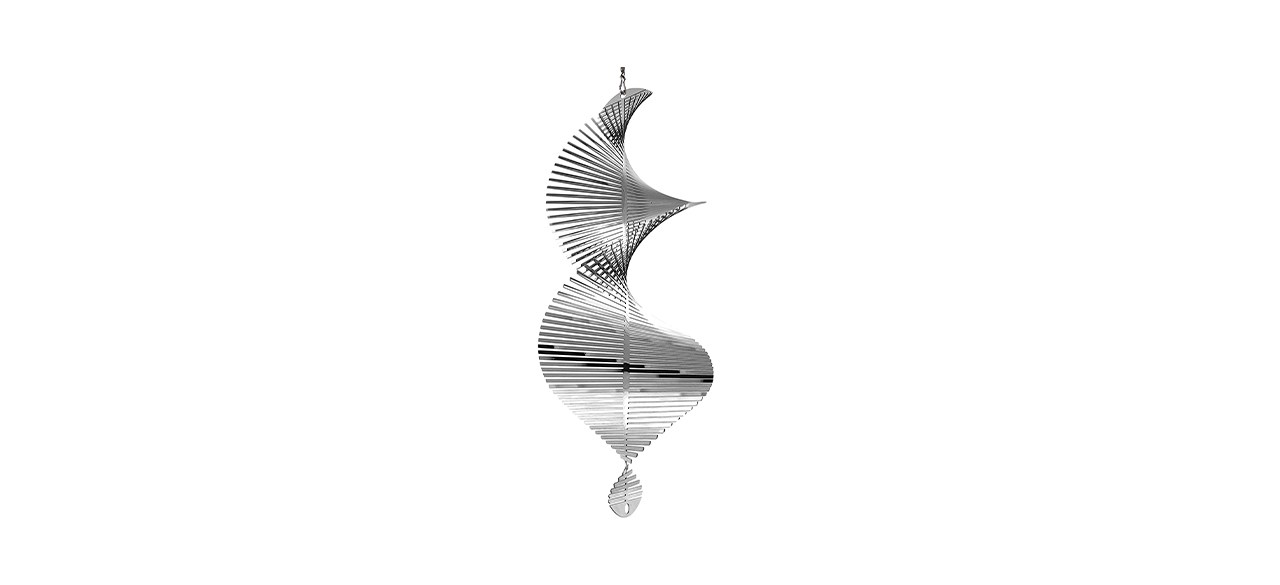 Beauty and the Wind Wind Spinner
Its twirling silver helix design and mirror finish make this spinner perfect for flashing in areas that catch plenty of sunlight. It comes with a rotating swivel hook and the stainless steel wire rope needed to securely hang it.
Sold by Amazon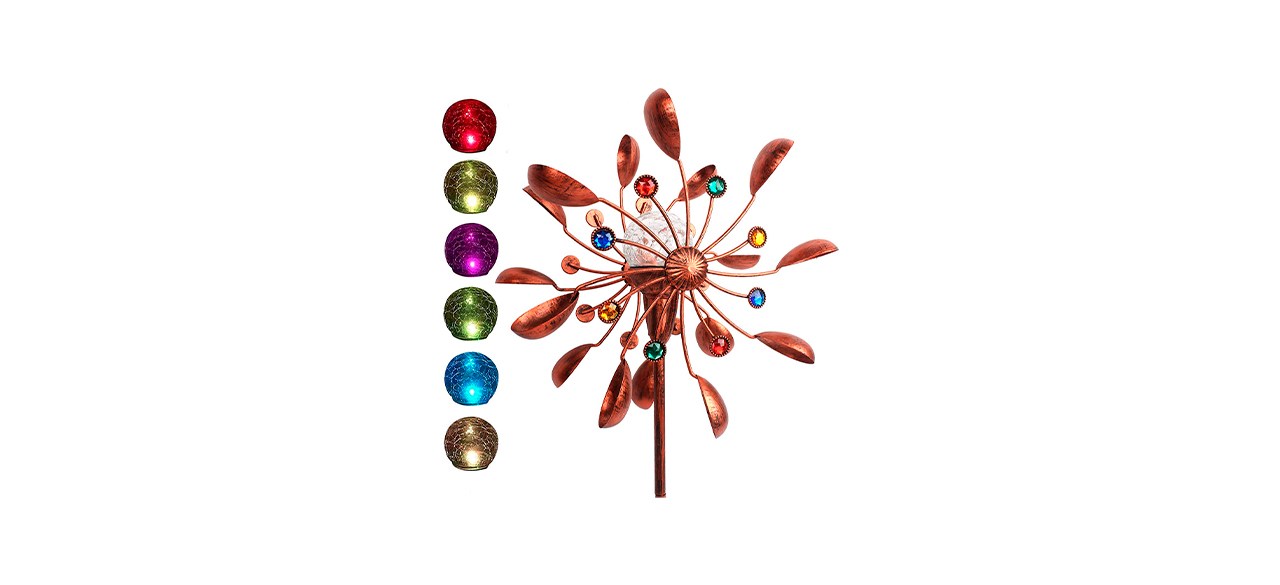 This spinner's spoonlike petals give it a playful feel that most spinners lack. A color-changing light in the center makes it enjoyable even on the darkest night. It's 14 inches wide.
Sold by Amazon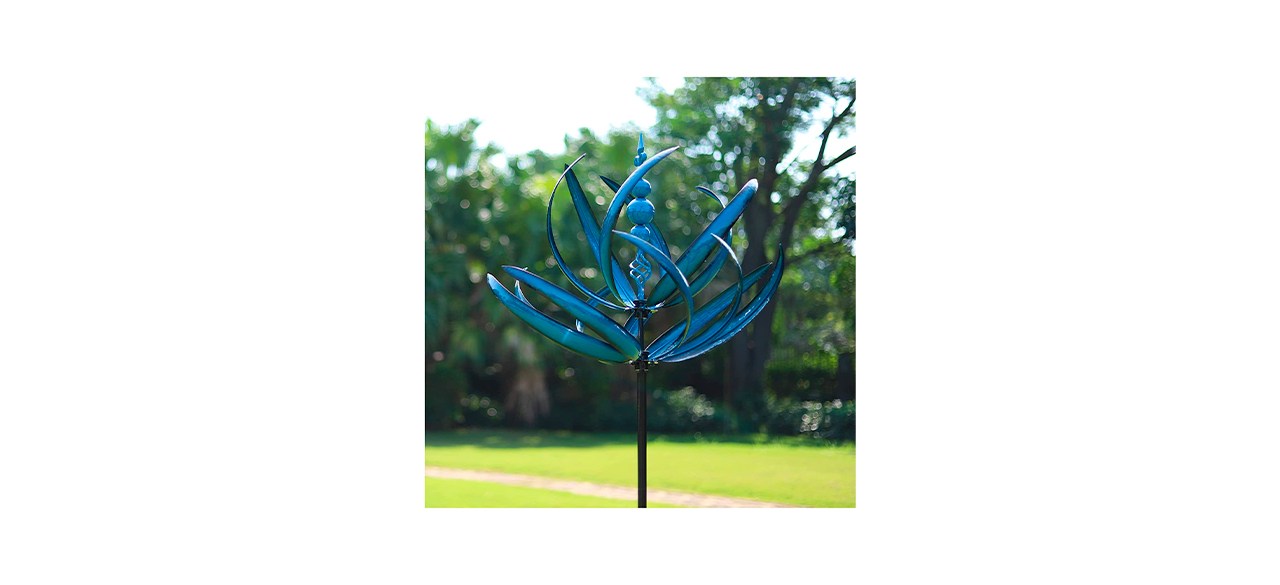 This lotus-inspired spinner is firmly planted in the ground, thanks to a three-pronged foot. Thickened poles keep it from bending, no matter the weather, and it's ultraviolet-, rust- and fade-resistant.
Sold by Amazon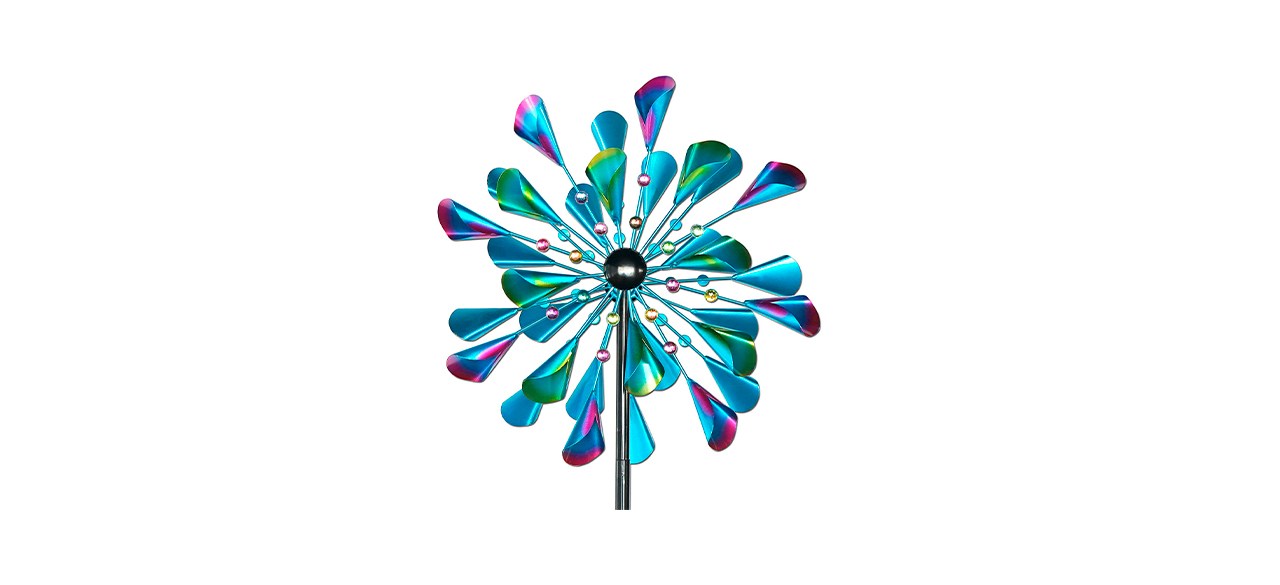 The curled petals, dotted stems and gradient coloring of this spinner give it an almost otherworldly look that's perfect for those wanting a nontraditional wind spinner. It's extra large, too, at 20 inches wide.
Sold by Amazon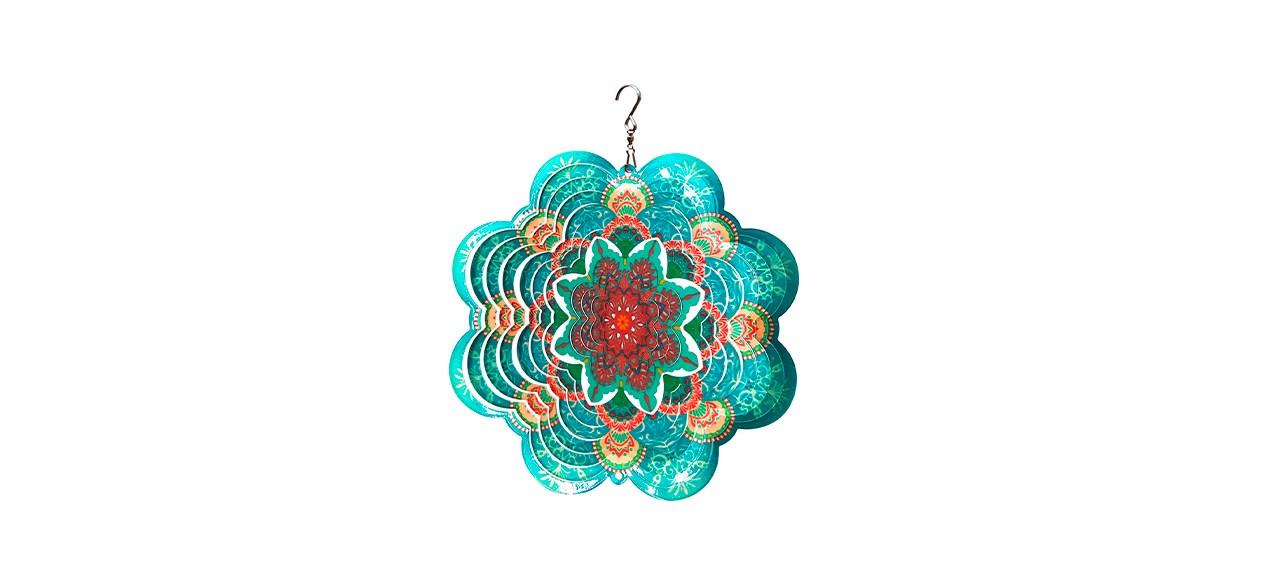 This spinner comes in 15 designs — two are 6 inches wide, and the others 13 are 12 inches wide. The designs include spinners in mandala-like shapes of many colors and a few Christmas-themed ones.
Sold by Amazon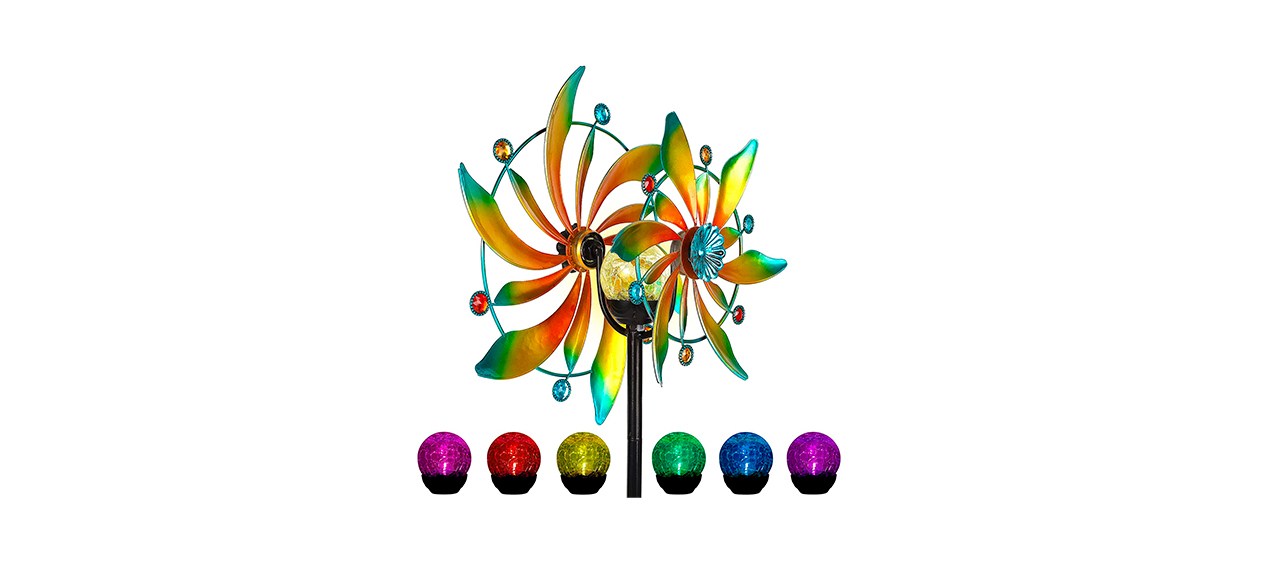 This uses a color-changing light in the center that automatically turns off and on with the sun and charges during the day with a solar panel. The spinners are treated with a UV-proof coating to last for years.
Sold by Amazon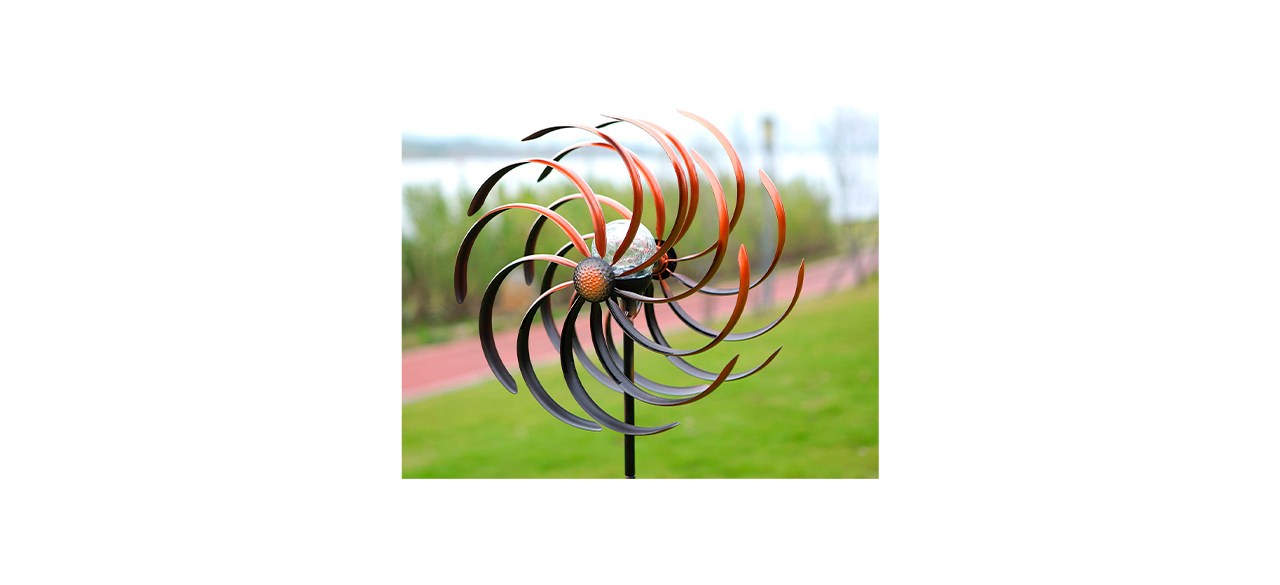 This 13.4-inch-wide spinner has a softly glowing solar-powered light in the center that sparkles wonderfully between the brass-and-black spiraling metal leaves. The pole is 75 inches from tip to tip and is made of several lengths that screw in together.
Sold by Amazon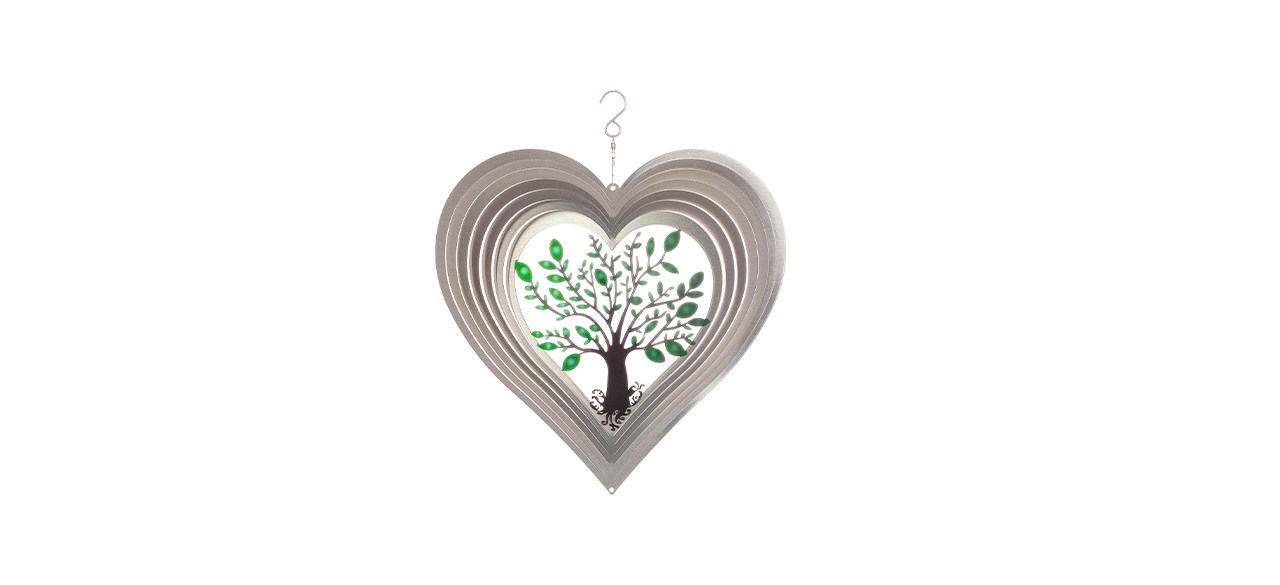 This makes a lovely gift for that special someone, as the spinning heart shape and tree in the center make it easy to visualize how much you care. It's made of stainless steel and comes with a rustproof hanging hook.
Sold by Amazon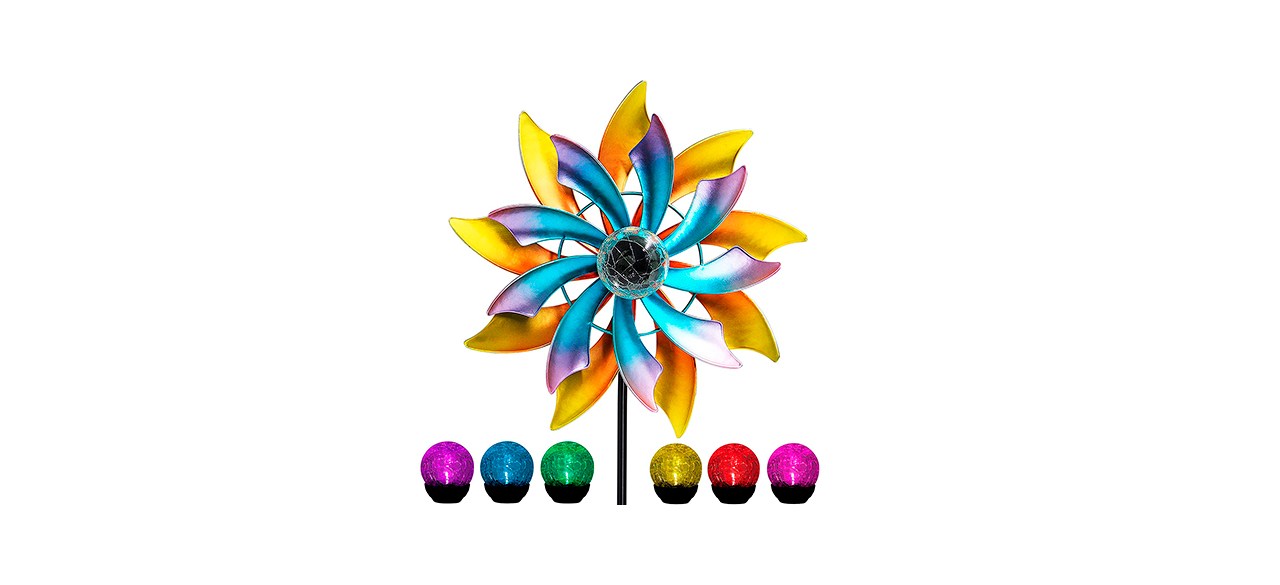 This spinner is large at 12.6 inches wide. Its petals are brightly colored and reflective. It has a color-changing LED ball in the center that charges with a solar panel and can stay on for up to eight hours on a full charge.
Sold by Amazon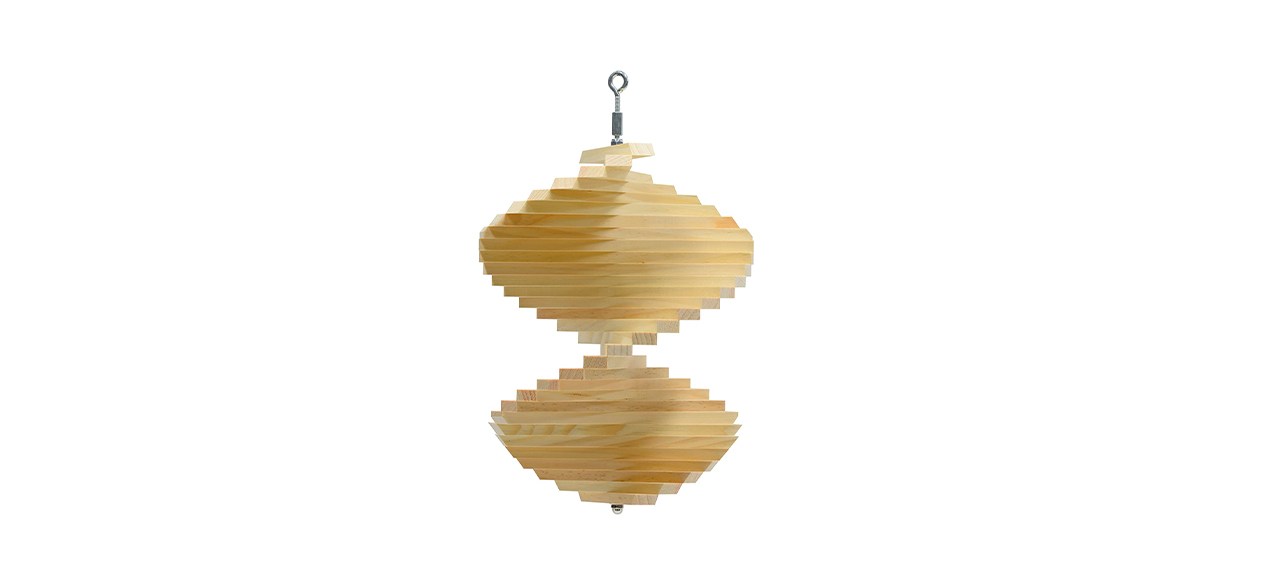 This spinner bucks the made-of-metal trend by being constructed from unfinished pine. Made in the U.S., it comes with highly durable hanging gear that ensures it can't be ripped away by fierce weather.
Sold by Amazon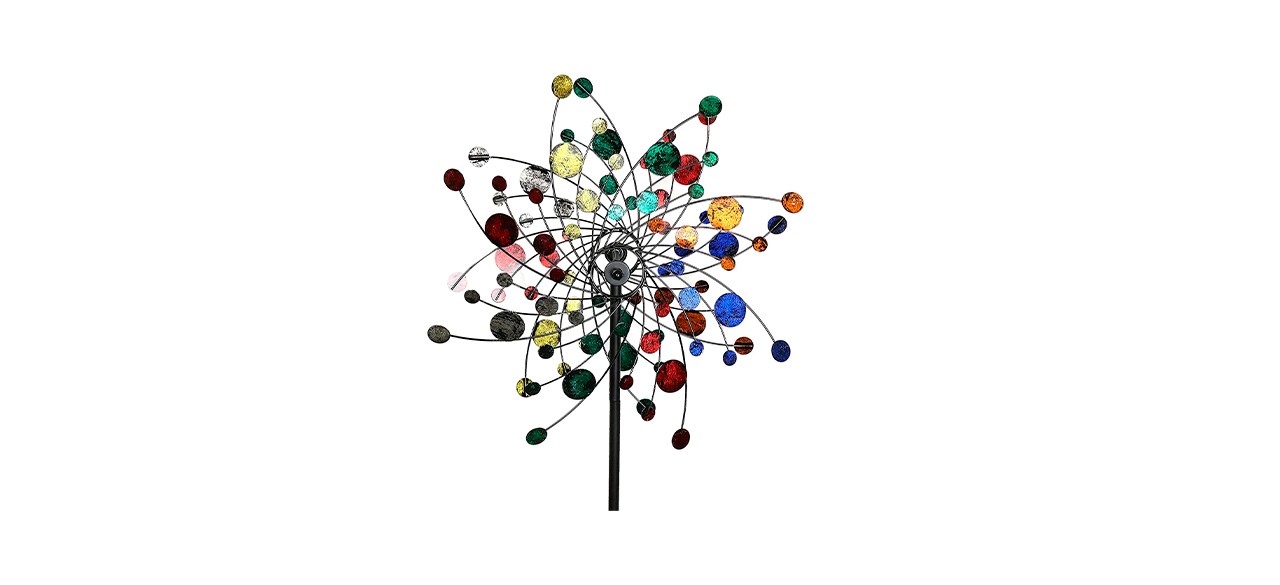 MJ Spinner Designs Wind Spinner
The dotted and multicolored disks covering this spinner produce an entrancing effect. They're covered in powder-coated paint to ensure they stay vibrant, no matter how severe the weather.
Sold by Amazon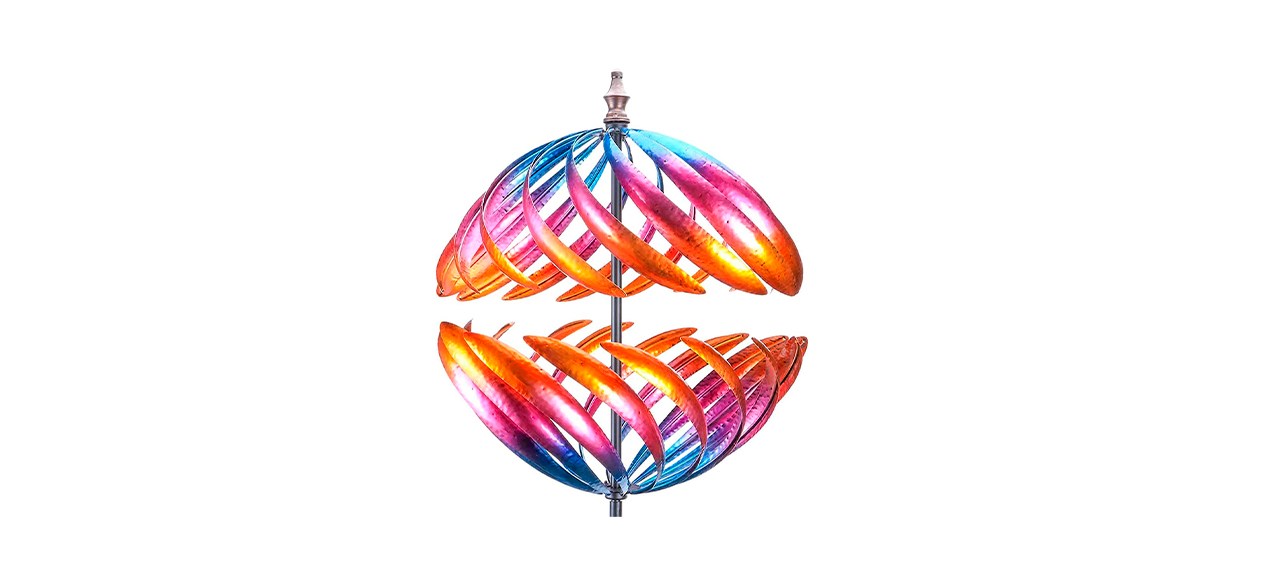 This ball-like spinner is a more modern and playful take on wind spinners. The multicolored gradient leaves look beautiful flashing in the sun. It has a six-month guarantee and uses a four-pronged foot to stay firmly rooted.
Sold by Amazon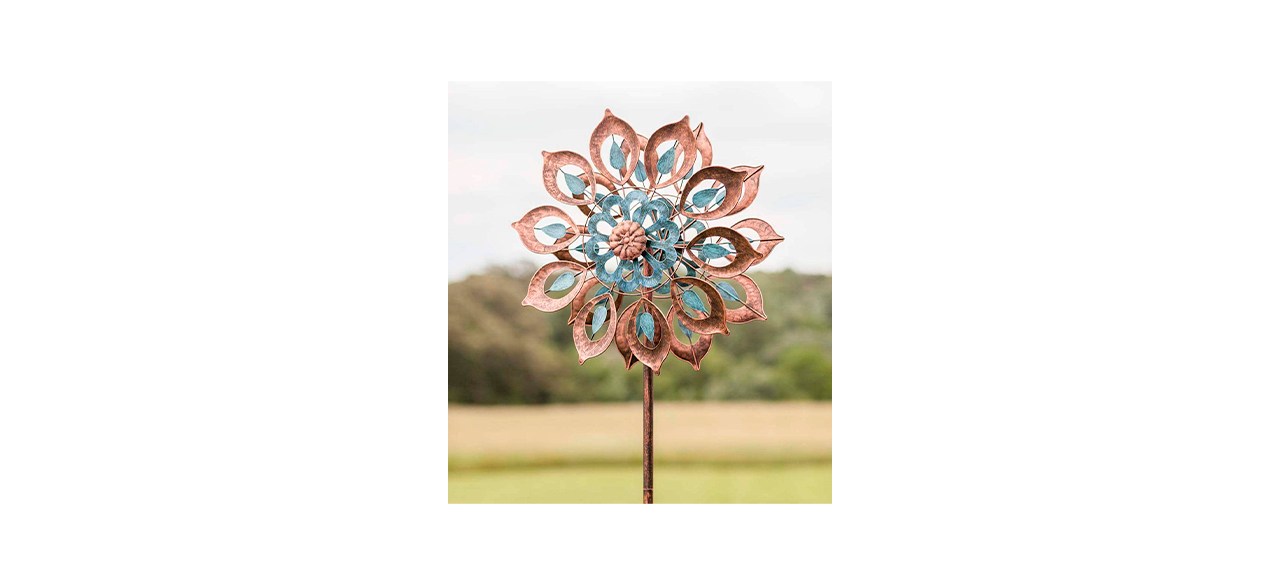 Brushed copper and turquoise petals give this a rustic, antique look that's great for country homes. The petal-in-petal design helps even the slightest breeze get caught so the two independently spinning flowers stay swirling.
Sold by Amazon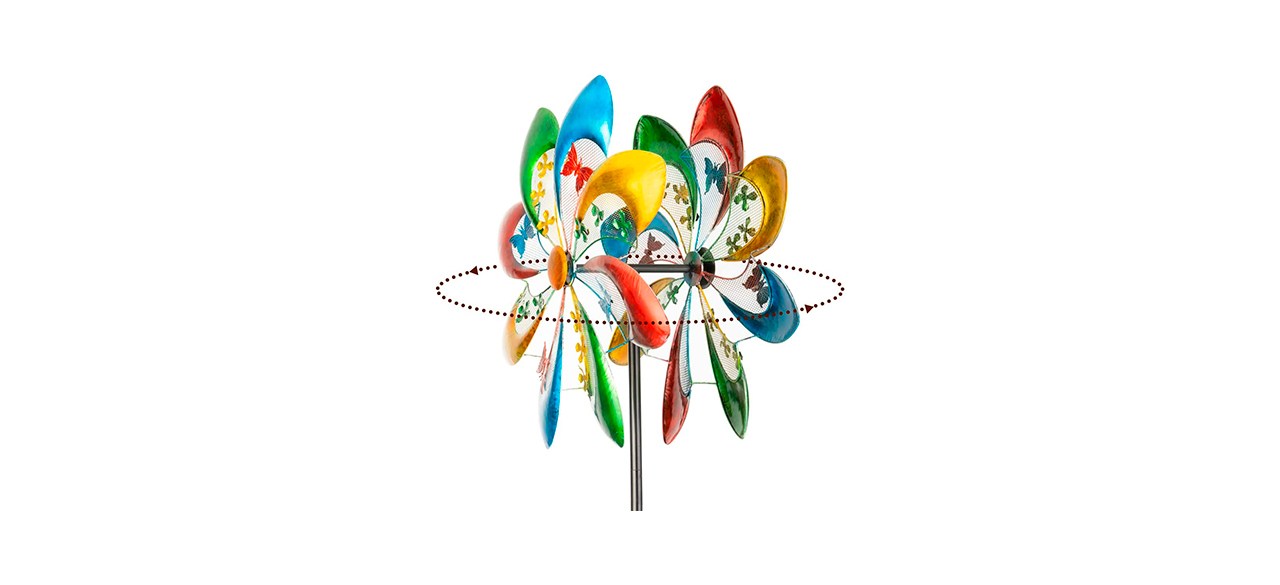 This staked spinner has two individually spinning "flowers." The base can spin for even more twirling. Each petal has butterfly or four-leaf-clover details and mesh sections to accommodate wind flow.
Sold by Amazon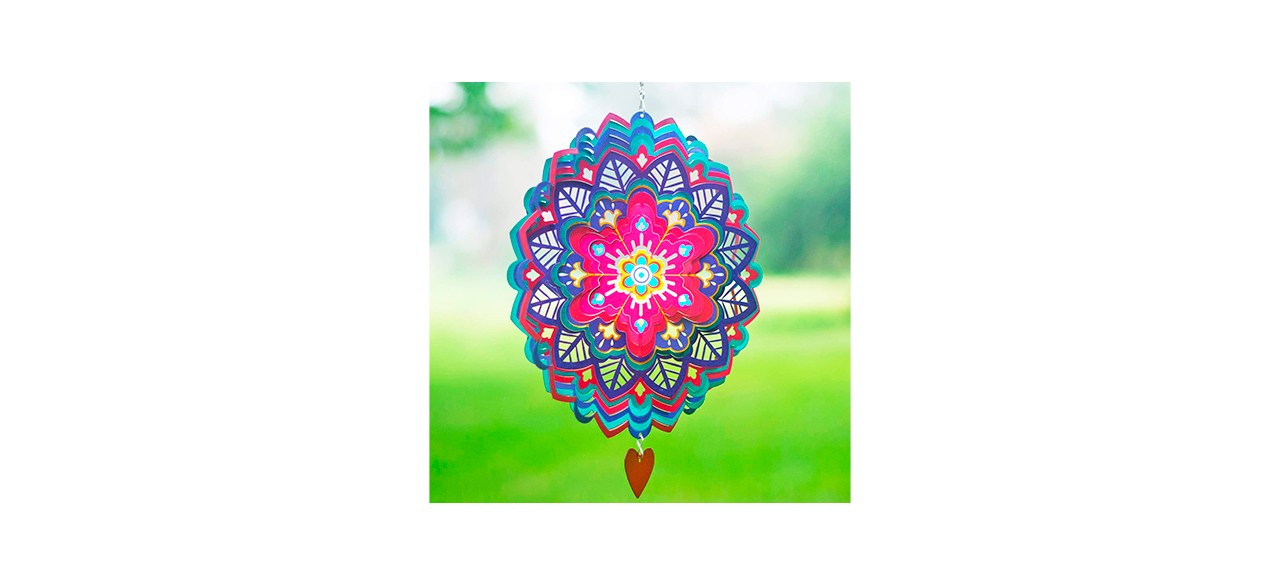 This uses a swivel hook for hanging, so it can twist as it wills through the wind. It's made of stainless steel for durability, and it comes in six mandala-inspired designs.
Sold by Amazon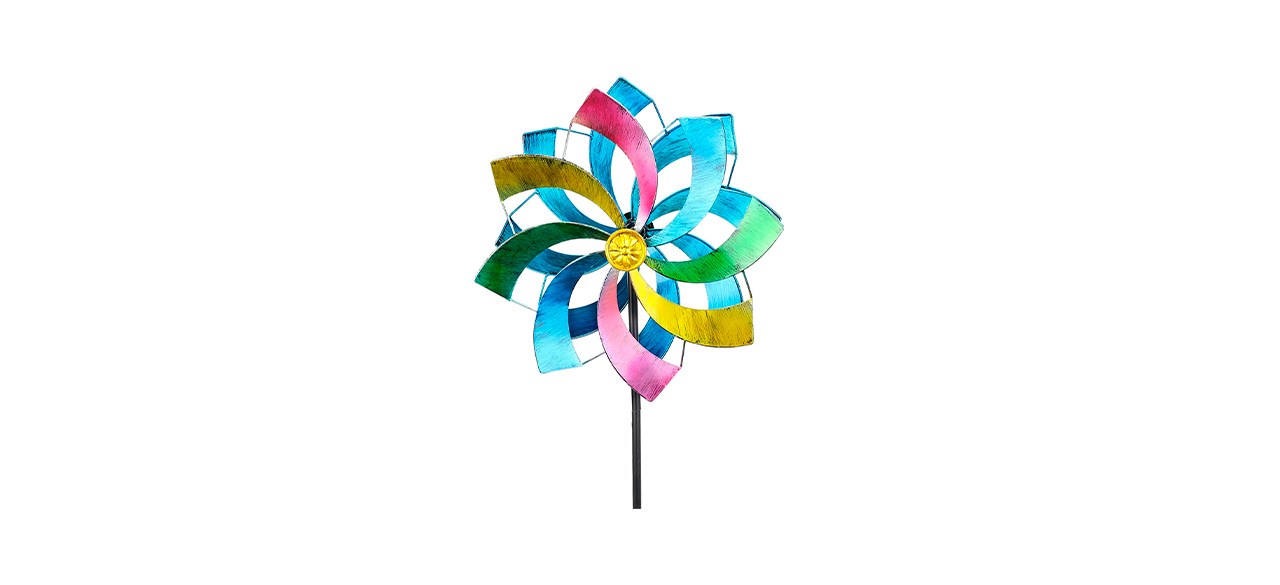 This has a three-pronged foot, so only the strongest winds can shake it, and a spiral connector helps prevent the pole from bending. It's made of metal and comes in six designs.
Sold by Amazon
Want to shop the best products at the best prices? Check out Daily Deals from BestReviews.
Sign up here to receive the BestReviews weekly newsletter for useful advice on new products and noteworthy deals.
Jordan Woika writes for BestReviews. BestReviews has helped millions of consumers simplify their purchasing decisions, saving them time and money.
Copyright 2023 BestReviews, a Nexstar company. All rights reserved.