VINCENNES, Ind. (WTWO/WAWV) — A crowd-pleasing festival is returning to Vincennes this August.
The annual Knox County Watermelon Festival is set to be held over two days at Patrick Henry Square, August 5-6 sponsored by Sparklight.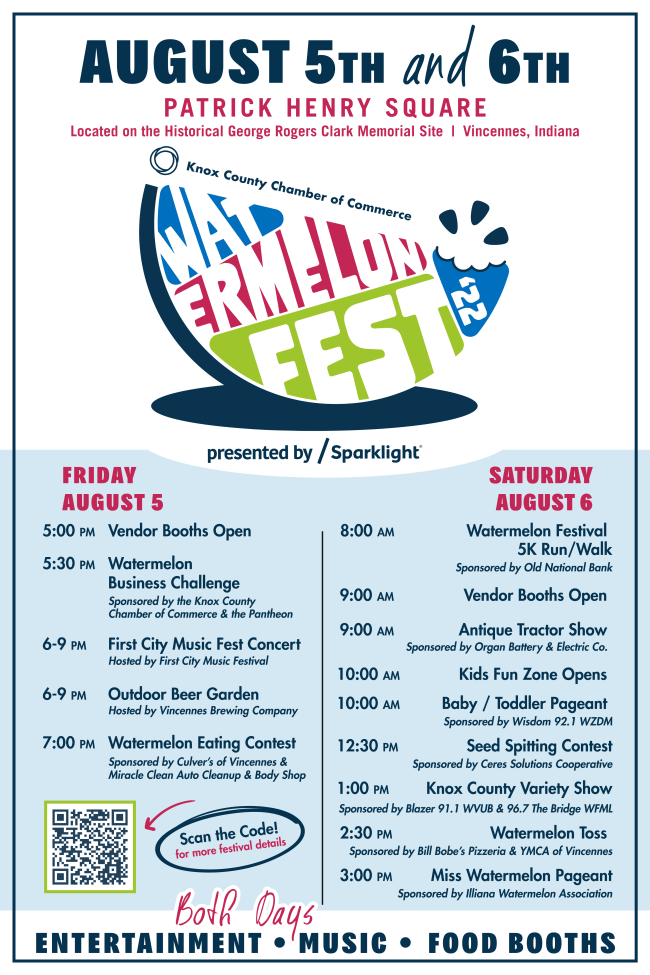 There will be lots to do with the Watermelon Business Challenge hosted by the Pantheon and the Knox County Chamber kicking things of Friday night at 5:30 p.m.
To register for the business challenge click here.
First City Music Festival will be partnering with the watermelon fest to provide a free concert for the community at 6p.m.,
Friday's main event is the watermelon eating contest sponsored by Culver's of Vincennes and Miracle Clean Auto Cleanup and Body Shop which will kickoff at 7p.m.
Saturday there will be a full day of festivities starting with the Watermelon Festival 5K sponsored by Old National Bank at 8 a.m.
Awards will be given to the top male and female winners of the race as well as the participant who has the best watermelon-themed race attire. To register for this race click here.
A new event for the 2022 festival will be an antique tractor show, sponsored by Organ Battery & Electric Co. This event will be free to participate in with no registration required. Participants are simply asked to arrive with their tractor by 9 a.m. Saturday August 6. Tractor unloading will be on Main Street between 1st & 2nd Street.
At 10 a.m. the Kids' Fun Zone will open, including inflatables, balloon twisting, sidewalk chalk fun and face painting.
The baby/toddler pageant sponsored by Wisdom 92.1 WZDM will get underway at 10 a.m. Saturday. Officials with the festival say this event is easily the most popular at each year's festival and calls it great family fun. More information including registration forms and rules can be found here.
At 1 p.m. the Knox County Variety Show will take place with lots of local talent and a few local celebrities taking part.
At 2:30 p.m. the watermelon toss event will get underway, sponsored by Bill Bobe's Pizzeria and the YMCA of Vincennes.
At 3 p.m. the Watermelon Queen contests sponsored by the Illiana Watermelon Association will start. Any girls between the ages of 5-19 can compete for the titles of Tiny, Little Miss, Junior, Pre-Teen, and Teen Watermelon Queen. Contestants must register for these contests by August 3. More information can be found here.