A few months ago Honda flew me to Japan with the promise of driving a prototype of the 2024 Acura Integra Type S. Of course, before that could happen I had to sit through an R&D presentation about all the other stuff Honda is doing. I found myself listening to a lecture on portable batteries that could in theory power a house in the future.
"Yeah, yeah," I thought. "Batteries for a house, whatevs."
It's safe to say, if it's not related to cars, I'm not interested.
Fast forward to this year's Grand Prix of Long Beach where lo and behold, Honda had those same portable batteries on display, but this time powering a go-kart. Hells to the yeah! Now Honda had my attention!
Honda eGX Electric Go-Kart Concept, Emme Hall photo
Honda eGX Electric Go-Kart Concept: Playing catch-up
An electric go-kart is nothing new. Go into any K1 Speed indoor karting facility and you'll be met with rows and rows of the little guys, awaiting any driver who can plunk down the session fee. Heck, you can even pick one up on Amazon or at Wal-Mart.
But these eGX go-kart concepts by Honda have a key advantage—swappable batteries. While other electric go-karts are out of commission while they charge, these concepts just need a quick pit stop every 45 minutes to keep going.
To see just how well the eGX can get around a track, I donned a racing suit and helmet and no-so-gracefully lowered myself into a kart. The two batteries slid into boxes on either side of the seat, and I told myself that's why it was hard to get my ass to fit. It definitely had nothing to do with cookies. Each battery is approximately 12x6x7 inches in size and weighs 22.7 pounds. They can hold 1.314 kwh of energy, feeding those electrons into a motor located just behind the rear axle.
I took a sighting lap on the small course Honda set up for us, then Ms. Hyde The Aggressive Karter came out on lap two. Something about karting brings out the complete jerk in me. I've been known to punt 8-year-old kids out of my way to gain a position on track. I'm not nice.
There was only one other driver on course and it became my mission to catch him. The eGX karts don't have regenerative braking, and I found it pretty easy to put the cart into a drift with an over-zealous left foot. It's not the fastest way around a corner but the instant torque coming out of the turns meant I didn't lose too much time. Having the two batteries on either side of the kart was good for weight distribution and the little kart zipped around the track with ease. I didn't have the room to get up to the max speed of 45 mph, but sat so low to the ground that I felt as quick as Lewis Hamilton—clipping apexes like a boss and looking good doing it.
There was a weight penalty however, so don't expect the eGX to compete squarely with a gas-powered kart. Including the batteries, the eGX kart weighs 260 pounds or so. Add a 150-pound driver and the kart is a bit of a tank. Gas karts come in many weights and sizes, but the eGX's batteries and motor should weigh more than a gas tank and a small engine.
I finally caught my compatriot on our final lap of the session, and that's when I realized how sweaty I was. I was out of breath and my shoulders and arms were burning with the fire of 1,000 workouts. Though they be small, the karts still be mighty difficult to steer. If I built a track in my backyard and karted every day I'd say good-bye to those batwing triceps exercises for good, no gym membership needed.
Honda swappable batteries
Honda eGX Electric Go-Kart Concept: Swapping the batteries
When it came time to swap the batteries, it was super easy and could be done in less than 30 seconds. Just unlatch plastic box, remove old battery, insert new battery, and relatch plastic box. The batteries can only go in one way and they slide right into the connection points. Easy peasy.
However, you'll need a bank of batteries to make it worth your while. They take five hours to charge, so you would need 14 batteries to keep running a kart continuously for 24 hours. Still, most electric karts require the entire kart to be retired while charging. It's much easier to retire a set of batteries than an entire kart. Honda didn't talk about how the batteries charge, but while in Japan the company showed us a charging station that held up to 12 batteries. Simply select a fully charged battery and replace it with one that needs go-go juice. Honda makes single-battery chargers as well.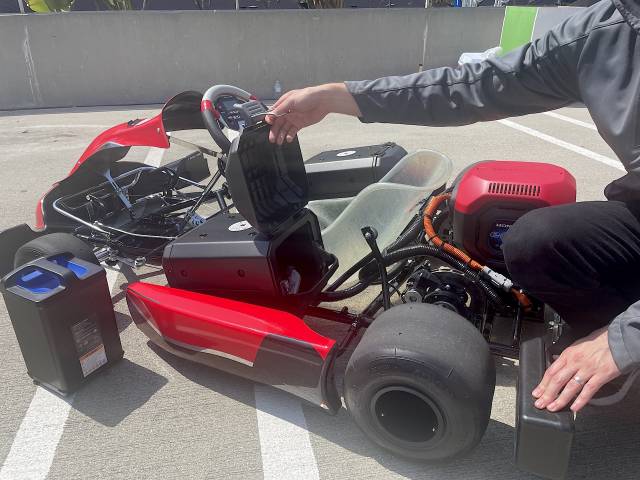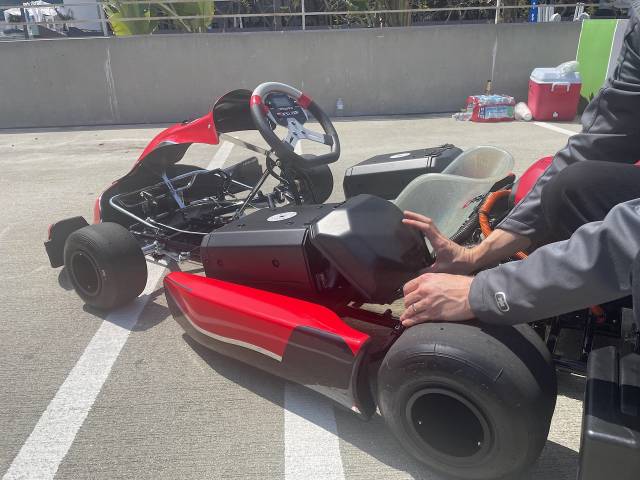 Don't think Honda is the first to the electric go-kart/swappable battery scene. Blue Shock Race in Latvia has been making electric go-karts since 2015 and is currently producing karts with batteries that can be swapped in as quick as 30 seconds as well. Some of its karts even come with regenerative braking, something Honda has left out of the eGX Concept.
Honda hasn't said if it will produce the eGX karts in quantity to sell them to racers or karting tracks. The advantages, however, are myriad. Not only don't teams have to worry about regular engine maintenance, but tracks can invest in fewer karts overall and provide their customers with that sweet and silent instant torque.
Oh, and if you plan to drive on regularly, cancel the gym membership. You won't need it.
—by Emme Hall
Related Articles